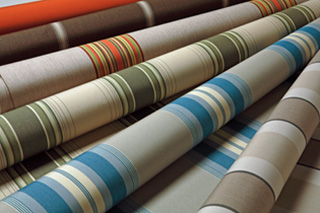 Awning Fabrics
For awning fabric we use Dickson Orchestra, a leading brand in awning fabrics.
Orchestra awning fabrics in 100% solution dyed acrylic with Sunacryl rot-proof fibres offer the benefits of Dickson's extensive technical expertise.
The fabrics are treated with Cleangard®, a nanotechnology based process offering unrivalled resistance to stains, oils and fats, water, and soiling.
Orchestra awning fabrics are designed for your comfort and well-being:
Solar factor (SF) -- blocks up to 95% of glare effect
Thermal comfort -- reduces heat by up to 95%, prevents greenhouse effects
Protection -- UPF 12+, UPF 30+ and UPF 50+ up to 100% of UV rays filtered
Exceptional resistance to water
Colour fastness under UV rays and bad weather -- 7 to 8/8
10-year guarantee
You can visit the Dickson website to see the wide range of colours available.