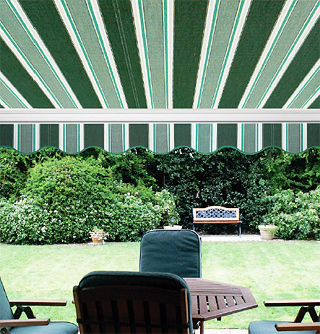 Patio Awnings Ross-on-Wye
Patio Awnings Ross-on-Wye - We supply patio awnings made by the UK's leading awning manufacturer. As well as extending the use of your patio even on the days when the weather is less than perfect, a well designed awning will also help keep your house cool on a hottest days. Our patio awning collection contains a wide range of fabric styles and colours all designed to resist fading and temperature extremes.
When required, we can also fit your patio awning for automatic operation, allowing you to open and close it at the touch of a button. The addition of awning heaters and awning lights can also help to extend the use of your patio, especially for alfresco evenings.
We are a family business with pride in giving personal service and, over 25 years, we have established a good reputation supplying and installing patio awning systems in Ross-on-Wye and many other midland towns.
Testimonials
"I am writing to thank you for the work you did for us recently designing and installing our new patio awning. We are delighted with the advice and suggestions you gave us and also with the finished result."
Mr Pugh - Shropshire
"Many thanks. Our new awning was fitted yesterday and it looks stunning, just what we had hoped for. Your staff were very efficient and left the place immaculately clean and tidy. Congratulations on a running the project so smoothly. You are to be highly recommended."
Mr & Mrs Ceasar - Birmingham
"I would like to thank you for the excellent job you made of my new patio awning. Working with you was a pleasure."
Mrs J Peat - Shropshire
"We were most impressed by the attention to detail shown by your staff. The result was a perfectly smooth installation and a perfect sun awning. We are delighted with it."
Mrs James - West Midlands